The myths
There is simply no Woodworth Coat of Arms, and no Woodworth Family Coat of Arms. There is no Woodworth "crest". Further, there is no coat of arms for any surname, despite what the online paper mills would have one believe.
There is no "surname" coat of arms, because coats of arms are for specific individuals. For example, say, if one "Smith" individual had a coat of arms in the 15th century, that would not extend to millions of "Smiths". Only the specific applicable line of the specific individual Smith could make the claim. There could be dozens of coats of arms for different Smiths, identified by specific full names and birth dates.
The coat of arms practice was begun in the 12th century as a means of distinguishing armored individuals on the battlefields. They became regulated in appearance in the 15th century or earlier. Thus, fathers and sons within the same family had different coats of arms, although they were similar enough to be recognized as members of a family.
Sometime later, coats of arms could be inherited with limits and rules, and often with mandatory alterations in the case of multiple sons. Today, no coat of arms can be claimed as inherited except by documented lineage, generation by generation, back to the specific individual that had the specifically identified coat of arms. Even then, such claim and its documentation must be capable of being verified by the College of Arms (in the case of England), the sole approving authority for England's coats of arms.
However, in the case of American Patriots, or those of the colonies in the New World who fought against the Crown in the 1776 War of Independence, all claims by heirs to coats of arms were terminated due to their traitorous acts. Loyalists' coats of arms were not canceled.
In accordance with the above and in the case of Walter Woodworth of England (origin assumed), Richard Woodworth of Ireland, William of Quebec, and other Woodworths of England:
1. A surname coat of arms is not possible, and thus none for the surname "Woodworth".
2. There is no known coat of arms for any Woodworth.

One may say, "but what about authors' claims to the Woodworth grasshopper coat of arms?" And that leads to:

The Blunder of the Embarrassing Woodworth Coat of Arms
The myth of Woodworths being associated with a grasshopper coat of arms began this way:
Elijah Burghart Woodworth in 1901 published "Descendants of Walter Woodworth of Scituate, Mass" and unfortunately included the coat of arms assigned to Richard Woodward of Kent Shire's coat of arms, which was established in the 1500s. Elijah's placement of Richard Woodward's coat of arms in his book was more for decoration than authenticity. This caused many to incorrectly assume that Woodworths were somehow related to Richard Woodward of Kent. We have established that all four major DNA lines of Woodworths are absolutely and incontrovertibly unrelated to ANY Woodward, including of course Richard Woodward of the 1500s.
In other words, Elijah Burghart Woodworth may as well have found a random coat of arms for Throckmorton, Pickerel, or Fuddyduddy, with lions, tigers, and cockroaches and put it in his book as a coat of arms in lieu of the Richard Woodward's (of absolutely no relation} grasshopper coat of arms.
The Holmes Corey Scam of Woodworths
The Holmes-Corey scam consisted of the outrageous action of plagiarizing and modifying the "real" (but erroneous) Richard Woodward coat of arms and passing it off as a surname (an impossibility per heraldry) Woodworth coat of arms, and was sold to our wonderful genealogist Jeanette Behan. Of course, Jeanette learned quickly that it was probably fake, and resolutely never showed it to the public.
In the 1980s, Jeanette Behan initially placed the Richard Woodward of Kent "grasshopper coat of arms" in her first newsletters, but permanently removed it when notified by Carl W. Fischer, prominent genealogist and Woodworth descendant, that the coat of arms was specifically and only for a Richard Woodward of the 15th century. Upon this discovery, she replaced the "grasshopper coat of arms" with the symbol of a tree. She never again mentioned a coat of arms in her subsequent writings. What had influenced her earlier use was that other Woodworth genealogists had assumed by wishful thinking that, surely, Woodworth must be a spelling variant of Woodward, and since there was a Richard Woodward that had a coat of arms, then all Woodwards and all Woodworths could potentially lay claim to his coat of arms. As stated previously, Jeanette did order a Woodworth "grasshopper coat of arms" from Holmes-Corey Heraldry of Boston, but she never showed it publicly due to her discovery that it was probably a fake. The Holmes-Corey mail order business and its products, including the "grasshopper coat of arms", have since proven to be a scam much like the so-called "heraldry" or "arms" paper mills all over the internet, all of whom are ready to sell a "genuine" (fake) copy of your very own surname coat of arms -- with the same "coat of arms" being used for dozens of spelling variations of a surname. The latter conclusion is borne out by the Holmes-Corey "attestation" of an alleged "Mc Iver" coat of arms, wherein the McIver attestation. along with a bunch of gobbledygook, merely claims that "somebody with that surname or similar surname" had a certain coat of arms in the same internet practice exercised by modern day fake coat of arms paper mills. This is the same type of wording. and same blue cover, that accompanied the Boston Holmes-Corey version of the Woodworth "grasshopper coat of arms". Holmes-Corey made no claim of their alleged coat of arms of being associated with any individual Woodworth, nor a particular line of Woodworths, nor a Woodworth geographical location. In short, the McIver and Woodworth "attestations" are fakes used to scam many victims. I took a picture of that fake Holmes Corey "Woodworth" coat of arms, and my picture of it appears as follows (with "FAKE" added).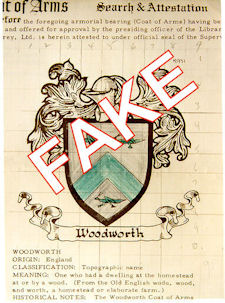 THE HOLMES-CORY SCAM
A Fake "Woodworth Coat of Arms" produced
by the scam company Holmes-Corey
It took several years to realize and understand that the "Woodworth coat of arms" created by Holmes-Corey was a scam. Dick Eastman, a popular genealogist and author, wrote an article some years ago about fake coats of arms and how Americans completely misunderstood heraldry, and his article provided the needed clarity about the Holmes-Corey graphic. Unfortunately, one Woodworth group created a T-shirt and other items based directly on the Holmes-Corey Scam. (See T-shirt below and compare to the scam above.) The T-shirts that were made with the grasshopper Holmes-Corey scam graphic above look quite sharp. It's unfortunate that the T-shirts do not favorably represent Woodworths at all, but rather represents a serious blunder in identifying a person of no relation as a Woodworth ancestor, a scam company's plagiarized graphic, and the exposing of a graphic that Jeanette Behan did not want anyone to see.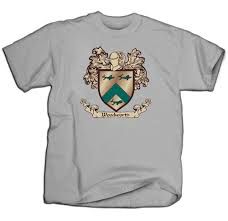 For a history on how the Holmes-Cory Scam "coat of arms" appeared before the public despite Jeanette Behan's wishes, see A Visit with Jim Behan -- Early March 1998.

Further, we have now, through DNA, established a location where Walter's parents resided in England, and it seems that we have actually found Walter's parents. See http://www.woodworth-ancestors.com/walter-parents/index.htm. Our Walter's DNA is found in Staffordshire, England, and within a surrounding area, which is far from Kent Shire where Richard Woodward lived. This strongly suggests no connection of Walter Woodworth of Staffordshire to Richard Woodward of Kent.

DNA has proven that a genetic relation of Walter Woodworth to Richard Woodward, original owner of the grasshopper coat of arms, is extremely unlikely, as there are a multitude of genetically unrelated Woodwards, and about four lines of genetically unrelated Woodworths. None of Woodworth lines have been able to establish a documented line to Richard Woodward, and one line of Woodwards appear to have documented a line to Richard Woodward with a possible true connection to the "three grasshopper" coat of arms. Further, the Walter Woodworth line now appears to have always been Woodworth, and has no genetic connection to any Woodwards.

Something humorous about the early 1980s Boston heraldry version of their alleged "Woodworth grasshopper coat of arms" is that it was the only one that depicted the grasshopper's rear legs reversed. Any leap by those grasshoppers would have propelled it backwards. The reversed legs can be viewed here: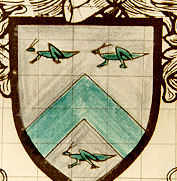 Reversed grasshopper legs
Another source that stirred up the "grasshopper coat of arms" myth was "Ruby Haskins Ellis". In the 1930s, Haskins was a syndicated genealogy columnist. She prepared numerous brief articles on many surnames, including "Woodworth". I found the following article in the Smithsonian archives while I was in Washington, DC.. The erroneous claim that "The arms here displayed were borne by Walter Woodworth and are used by his descendants" reinforced the myth. See the error filled 1934 article below and the added "NOTE" describing those errors.


---
The Halbert Scam: Gary Halbert is said to have sent out 700,000,000 letters over 30 years to people with less common surnames selling fake genealogy, including fake coats of arms that he designed for surnames. He made millions in that manner. What people received in their surname genealogy kit was basically some simple general information, a fake coat of arms for their surname, and addresses and phone numbers for people of that surname. Basically, the material was the mailing list for his scam in book form. Jeanette Behan warned people in her Sep-Oct 1984 newsletter, page 2, of this scam. Click here for one of Halbert's Woodworth scam products. EBAY WARNING: Scam artists have rediscovered the now archaic Halbert scam product in the foregoing link, and are now reproducing the 8.5x11 sheet containing a fake Woodworth coat of arms and general commentary and selling it on eBay for $4.88 and up --- whatever people will pay.
---
Modern Standardized, Popular (but still fake) Woodworth Coat of Arms
The commercial internet heraldry business seems to have standardized on one single (fake) coat of arms for the "Woodward/Woodyard/Woodwards/Wodard/Woodworth" surnames. See the blue coats of arms in the row of images below. No reason is given as to why, or to which individual, this coat of arms was originally designed. This design or COA is sold both in the US and in England. Sherrye Woodworth's daughter bought a Woodworth coat of arms in England, and this same blue design shown below was provided.
Recommended reading:
Myth of the family coat of arms by the renowned genealogist Dick Eastman:
http://blog.eogn.com/eastmans_online_genealogy/2009/11/the-myth-of-family-coats-of-arms.html

The ultimate authority on coats of arms is the College of Arms in England. See links below:



http://www.college-of-arms.gov.uk/
http://www.college-of-arms.gov.uk/Faq.htm
(Note: The England College of Arms officially states as follows: "There is no such thing as a 'coat of arms for a surname'. Many people of the same surname will often be entitled to completely different coats of arms, and many of that surname will be entitled to no coat of arms. Coats of arms belong to individuals. For any person to have a right to a coat of arms they must either have had it granted to them or be descended in the legitimate male line from a person to whom arms were granted or confirmed in the past.")
In conclusion, there is no "Woodworth coat of arms", nor is there any documentation that Walter Woodworth or any Woodworth had a coat of arms. Further, ALL of the online heraldry businesses are selling fake "surname coats of arms".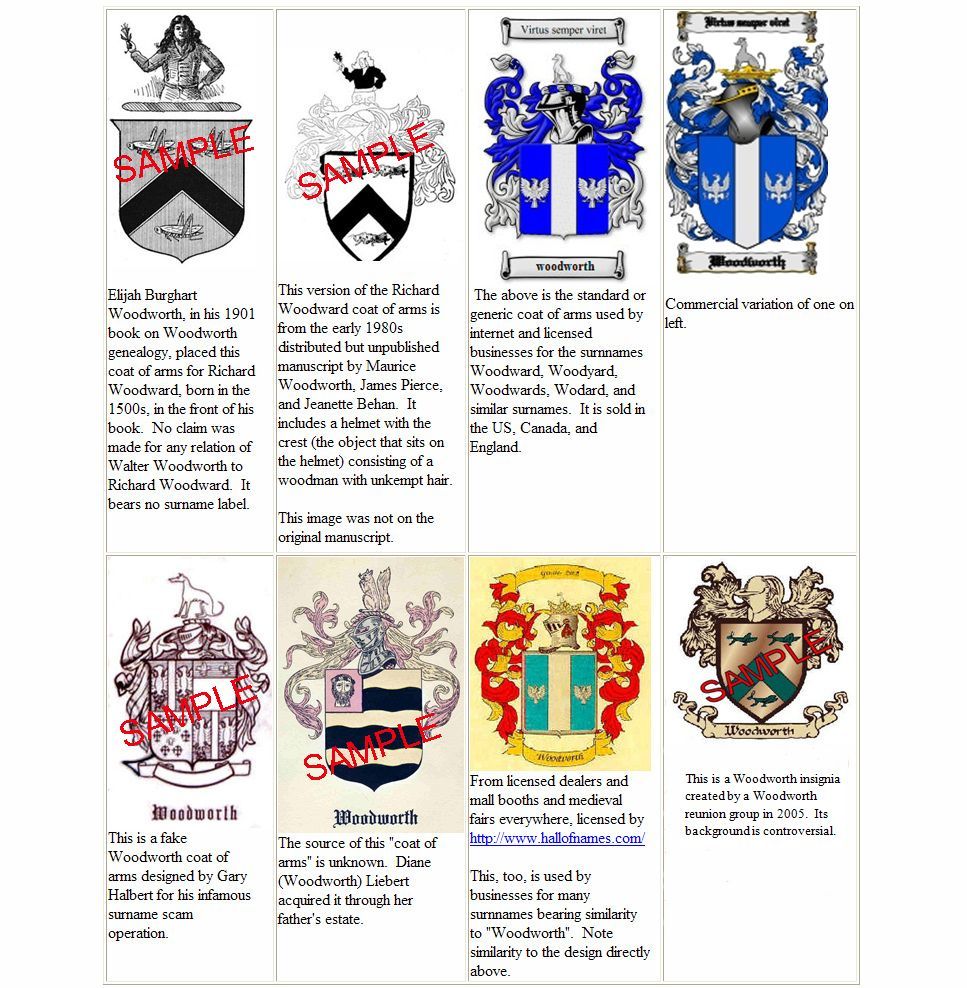 The description for the "real" Richard Woodward coat of arms is:
"Richard Woodward of Woodmarsh and his son William Woodward of Ashford, Kent Co., used the old arms and crest of the family in England.
ARMS: ar. a chew. Sa. betw. three grasshoppers Vert.
CREST: A demi Woodman couped at the knees. Vested gu, hair dishevelled or in his dexter hand a honeysuckle of the ppr., stalked and leaved Vert."
CRESTS
Frequently the term "CREST" is improperly used in lieu of "Coat of Arms". A crest is just part of a coat of arms. The heraldry definition of "crest" is as follows:
Crest. Named by the French Cimier, from Cime, the top or apex; by the Italians Cimiero; by the Latins, Crista, the comb of a cock. A figure set upon a wreath, coronet, or chapeau, placed above the Helmet. The manner of placing the Crest differs according to the rank of the bearer. By all below the Peerage, it is placed above the Helmet, the latter rests on the shield. Peers carry the coronet on the shield, and the Helmet and Crest above; but in both cases the Helmet very frequently is altogether omitted. Ladies are not entitled to wear Crests. But as an appendage to sepulchral monuments Crests are placed beneath the head of the armed effigy; are attached to the helmet, or are carved at the feet of the recumbent figures.

But the above definition of a "crest" is still fuzzy. Here is a web page that provides a diagram of a coat of arms that shows what a crest is and where it is usually located: http://www.fleurdelis.com/coatofarms.htm
And finally, the England College of Arms states as follows:
"It is a popular misconception that the word 'crest' describes a whole coat of arms or any heraldic device. It does not. A crest is a specific part of a full achievement of arms: the three-dimensional object placed on top of the helm."
© 2010 Marvin W. Woodworth. All Rights Reserved