Back to the main page
Back to the resources page
Back to the lines page

Descendancy Lines of Richard Woodworth of Dublin, Ireland

E-MAIL
LINE
COMMENT
ABCdonew42@yahoo.com


Don Woodworth

Remove spam foiler "abc" from
front of e-mail address.
Confirmed Nov 11, 2008 yahoo

Richard Woodworth 1758 Ireland - March 3, 1843
Wheeler Woodworth Feb 10, 1807 - Dec 22, 1880
John C. Woodworth Oct 5, 1836 - Nov 7, 1912
William Henry Woodworth - Dec 14, 1887 - Sep 30, 1972
James Robert Woodworth Jul 2, 1923 -
Donald Eugene Woodworth Jul 25, 1951
Note that Don's line came from Ireland in late 1700s

For more details on this line,
click here.
and here
and here.

ABCwinelover@woodworthwine.com

Gary Woodworth

Remove spam foiler "abc" from
front of e-mail address.

Richard Woodworth 1758 Ireland - March 3, 1843
Wheeler Woodworth Feb 10, 1807 - Dec 22, 1880
John C. Woodworth Oct 5, 1836 - Nov 7, 1912
Clare Christopher Woodworth, Mar 9, 1875 - Dec 29, 1953
John Lee Woodworth, May 30, 1899 - April 24, 1960
Gary Lee Woodworth (living)

See above

From a Rootsweb post: "Richard WOODWORTH served in the patriot army throughout the Revolutionary War, and by 1803 had moved to the Ohio River Valley at Adams County, Ohio. Richard WOODWORTH died about 1841 in said county."
Richard Woodworth b 1758 in Dublin is listed in the SAR. A book about him is:

"A Genealogy of Richard Woodworth, 1758 Ireland-1843 Ohio, Revolutionary War, his wife Sarah Ann Robinson and Collateral Families (by Marie Monson)
Much information is available by Googling.
Don Woodworth may have found the ancestor of Richard b 1758 in Dublin, as a Wheeler Woodworth of the right age was found in archived information there. The find suggests that Wheeler, son of Richard, may have been named after a grandfather Wheeler.

This group has not yet had DNA testing.
Mary Lou Stroup (not shown) has extensive genealogy information on Richard Woodworth and descendants.
John C. Woodworth, b 1836 and four sons are shown below (Photo provided by Gary Woodworth of Temecula, CA)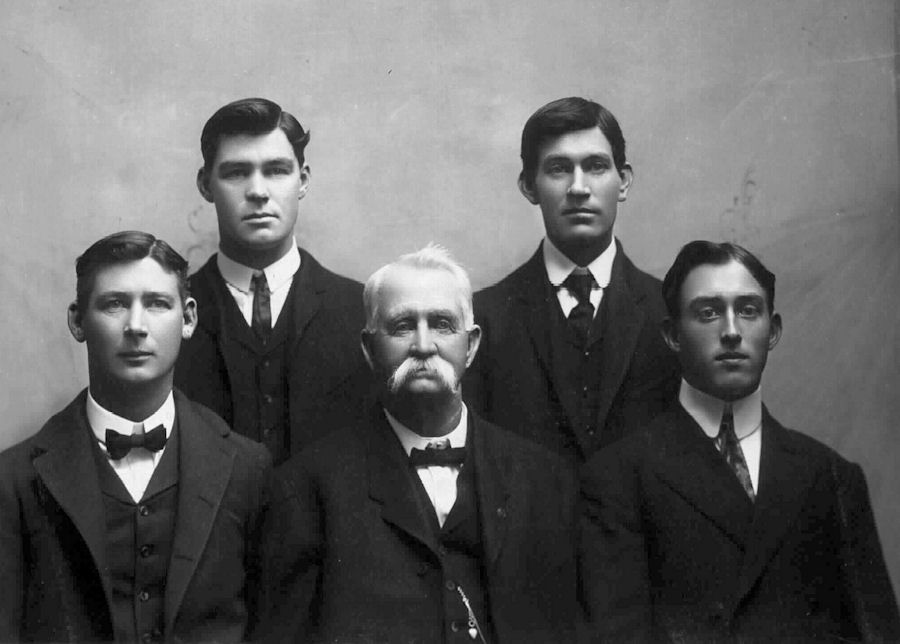 ---