Return to Woodworth Places
Return to Home Page

From the Kalamazoo Gazette, Kalamazoo, Michigan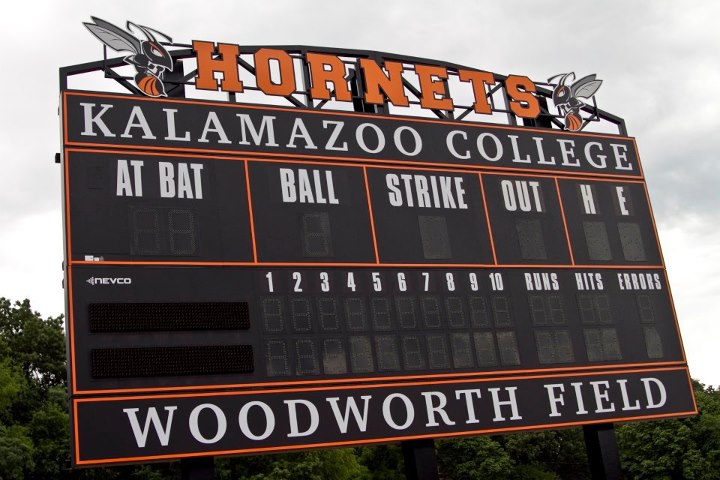 Woodworth Field was developed in 1955 and named after Tom Woodworth, Sr. Now used for baseball, it also was used for field hockey during the 1970s. Woodworth Field is part of the college's athletic complex at West Michigan Avenue and Burrow Road.

SPORTS SHORTS: Woodworth's made great contributions to local sports
Published: Monday, November 24, 2008, 9:00 AM Updated: Monday, November 24, 2008, 9:08 AM
Published Nov. 24, 2008.
The Dorothy Woodworth 100th birthday party on Nov. 15 was as first-class as was everything Tom Woodworth did as a sports promoter in the 1940s and 1950s.
Char and I had the opportunity to share a table with Bob and Louise Dunbar. My hearing deficiency makes it necessary to exchange notes in an atmosphere less than 100 percent quiet.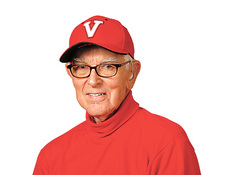 Shortly after we sat down with the Dunbars, Char was engaged in conversation with Bob and Louise. I began to scribble a few notes recalling some of Dunbar's feats as a bruising fullback at old State High School. He was also a basketball, baseball, and tennis star.

Asked what he remembered about Tom Woodworth Jr. as an athlete, Dunbar recalled, "Tom was a teammate in basketball, baseball and football, but he didn't play tennis. Tom was a leader, well coordinated and tough. He was a good ball handler and a great shooter from out court, and of course he was an all-star catcher in baseball. He made All-City selection in one of the other sports but I can't remember which one."

After graduation from State High in 1949, Dunbar attended the University of Michigan. Bob's father, Willis Dunbar, was a popular WMU history professor and announcer at WKZO at the same time I was appointed sports director of newly formed radio station WGFG, (now WKMI) in 1947, my senior year at WMU.

In remembering Tom Woodworth Sr., Bob said, "Tom's dad always put a lot of pressure on Tom Jr., being the youngest of seven children and that made it harder on Tom. Commuting from the farm to State High and all the athletic contests was also a challenge. We had a great time together as you can imagine. I love Tom."

When I summoned Tom to our table for a photo, Tom uttered, "I don't know about this...he's much taller than I am."

After posing for a photo with his long-time friend, Tom went back to join his mother.

Dunbar told about how Tom Sr. organized a kids basketball league. He got sponsors for the teams and a lot of those kids went on to play college ball. "Our team, Tom Jr.'s and mine, was the Wesco Cubs. The highlight that sticks out in my memory is the trip we took to Chicago to play a private school. We crushed them."

Tom Jr. was a four-year scholarship catcher on the Northwestern University baseball team. Each summer, he shared the catching chores with Moby Graham of the Ramona Bears. Moby's son was a recent four-year catcher for WMU.

Tom, his mother, and I put our memories to a test in recalling the Ramona Bears roster: Norm Snyder, Leo Trim, Charlie "Smokey" Maxwell, Pete Moshier, Norm Graver, Harry Wang, Keith VanSickle, Teeter Taylor, Dan Brown, Carl Deem, Tom Touber, Harold Troop, Ralph Miller, Al Lincoln, Dick Noble, Babe Lacalla, Kenny Hughes and Jake Stap.

Dunbar asked me, "What do you recall most about the Bears and your association with Tom Sr. ?"

I said, (1) Tom called a Boston Red Sox friend and scout and told him about "Smokey" Maxwell, who became an understudy in left field to Ted Williams for several years until the Red Sox traded him to the Detroit Tigers where he gained fame as Charlie "Paw Paw" Maxwell, the Sunday slugger hitting home runs against the New York Yankees. Maxwell played first base when not pitching. The Paw Paw southpaw had control problems with his blazing fast ball. The Bears was among the best semi-pro teams in Southwestern Michigan.

(2) I also attended many horse races with Tom who adored his favorite horse, Lady Woodworth. Tom was what I called a best personal friend as well as one of my favorite business clients.

(3) Tom told officials at Kalamazoo College he would finance a baseball team and build a field if they would authorize adding baseball to their sports program. Tom Woodworth was a jewel.

Five years after Tom's death, we became owners of the Dorwood Farms. We did not share equal enthusiasm for horses, so the farm became the Bronco Ranch.

Copy courtesy of the Kalamazoo Gazette of Kalamazoo, MI
---