Back to the main page.
Back to Woodworth People

Marjorie Woodworth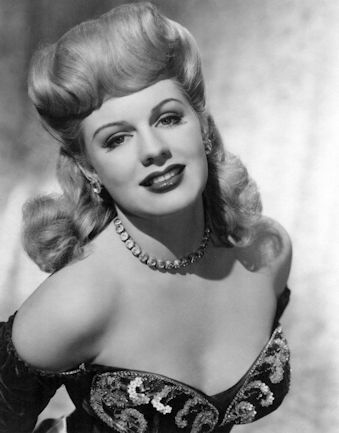 HAL ROACH STUDIOS
Marjorie Flora Woodworth was born on June 5, 1919, in Inglewood, California, to a distinguished family.
Marjorie's father was Clyde Cyril Woodworth, the city attorney of Inglewood, Manhattan Beach and other beach towns. Clyde attended Occidental College 1 year then the University of Southern California Night Law School. In 1913 he became the youngest Inglewood City Attorney. Marjorie's mother, Flora Marguerita Zier, was the daughter of German and Norwegian parents. Marjorie was their only child. Marjorie's dad, Clyde, was an attorney for 43 years, and retired in 1956. In 1954, the The Clyde Woodworth Elementary School was dedicated in his name. The school is still fully active. Inglewood also has a street named after him.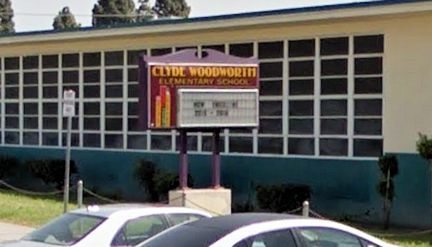 CLYDE WOODWORTH ELEMENTARY SCHOOL
Marjorie's first movie appearance was as an extra, a fifteen year old baton twirler, in 20th Century Fox's Alexanders Ragtime Band movie of 1938. This was prior to her "discovery" by Hal Roach Studios.

Marjorie attended the University of Southern California. It was there that a movie scout noticed the knockout blonde in an amateur theater assignment. Hal Roach Studios of Culver City signed her enthusiastically with the expectation she would replace the late great Jean Harlow.

She shared leads with top actors such as Victor MacLagen and William Bendix .
Hal Roach saw great promise in Marjorie, and attempted to make her an immediate star. She was constantly in the newspapers, often compared to Jean Harlow; however, Marjorie did not fare as well as Jean Harlow.
Right away, Marjorie was placed as the lead in the Hal Roach comedy, Broadway Limited, followed by leads in Niagara Falls, Brooklyn Orchids, Dudes are Pretty People, and Flying with Music. By 1943 she was playing lesser roles as second lead. She began playing supporting roles in movies such as Salty O'Rourke, Decoy, and A Double Life. She earned one final credit with a bit part in the 1954 It Should Happen to You

Marjorie arrived in Hollywood in 1940. She was often featured in newspapers, mostly as a model for Maybelline cosmetics in the 1940s. She was also a fashion model, modeling the newest fashion trends in newspapers. She was one of the favorite pin-ups of WWII.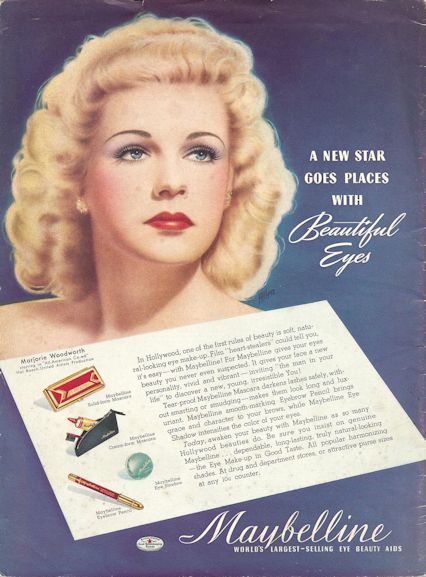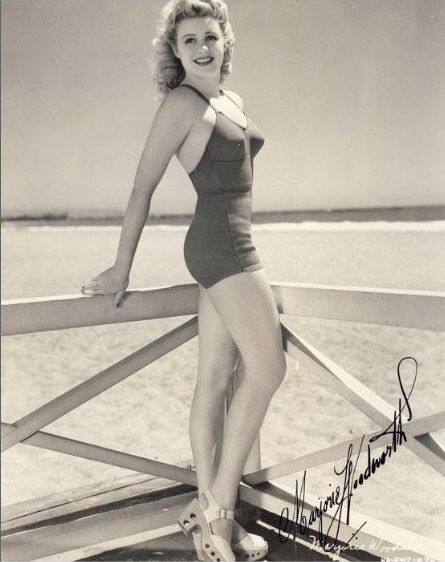 She was a good friend of columnist Walter Winchell and wrote several columns for him during WW2. She wrote about the US Navy. As part of the war effort, she and Chill Wills entertained the boys in Camp Huachuca, Arizona, in 1943.
While in college and as a movie star, she dated her University of Southern California beau, Michael C Kosturick, since her freshman year. Michael was drafted in WW2 in 1941. They married on February 13, 1947, in Los Angeles. He was an actor when they married. Michael was born two years prior to Marjorie, on July 20, 1917. He was a native of Pittsburgh, Pennsylvania.
Marjorie Woodworth died on August 23, 2000, as Marjorie F. Kostrucik. Her husband Michael Kostucik died in February 2002 at the age of 85.
There are some free full length movies on YouTube starring Marjorie, and two are provided here. Click on one of the following to view free:

Marjorie Woodworth's Ancestry
1. Walter of Scituate, Plymouth Colony, b 1608 in Staffordshire, England
2. Benjamin b 1649
3. Ebenezer b 12 Mar 1691
4. Ebenezer b 26 Sep 1718
5. Ezra b 25 Aug 1763
6. Cyril b 21 Feb 1805
7. Lysander b 17 Aug 1836
8, Willard Loomis b 11 Oct 1858
9, Clyde Cecil b 30 Jan 1890
10. Marjorie Flora Woodworth b 5 Jun 1919; d 23 Aug 2000
© 2016 Marvin W. Woodworth. All Rights Reserved
=============================================================